Gentle Reader,
This will be the last Business Bytes for this year – I will resume this publication on 22 January.
We trust that you will enjoy the festive season and return rejuvenated.
Daan
Economic review
Our economy has a long term average growth rate of 3.5% and requires above 5% to deal with our unemployment challenges. Given our current performance and the choices that are not being made, it is difficult to see that South Africa will make meaningful progress in the immediate future in dealing with general poverty.
The People's Own Savings Bank of Zimbabwe was fined by its owner, the state, for distributing photos of the new Bond notes serving as cash in that country. Taking money out of one's pocket to put in another?
Business review
The machinations at SAA continue unabated and a new global consultancy has been appointed to manage the merger of SAA, Mango and SA express in order to "optimise synergies". Where our national carrier fails, others see opportunities: FastJet is considering expanding into South Africa. One wonders whether this will ever happen given the State's understandable desire to retain internal routes for its own carriers?
The man behind one of the most recognisable fast-food businesses, McDonald's big Mac, died this week.
Sygnia is an investment fund which is reportedly determined to disrupt the traditional wealth management market by fielding advanced technology and punting lower costs. Judging by its performance to date, this is a fund that would bear watching.
It is proposed that major B-BBEE transactions, i.e. those which exceed R100m in the value of either combining the annual turnover of both entities or asset values, must be registered with the B-BBEE Commission. Interestingly, retrospective transactions concluded after 24 October, 2014 and the final publication of the thresholds, must also be registered within 30 days after the final publication of these legislation.
Proposals for a compulsory social security system (to be known as the NSSF) that would provide some level of retirement, death and disability benefits for all, were tabled a week ago. Employers and workers would be required to contribute a combined 12% of qualifying income up to a ceiling. This proposal recommends the compulsory annuitisation of two thirds of the savings on retirement, a proposal vigorously opposed by Cosatu.
The RMB/BER business confidence index fell in the 4th quarter to 38 points. This is said to indicate a muddle through expectation for next year. It is interesting to follow this index over a longer period: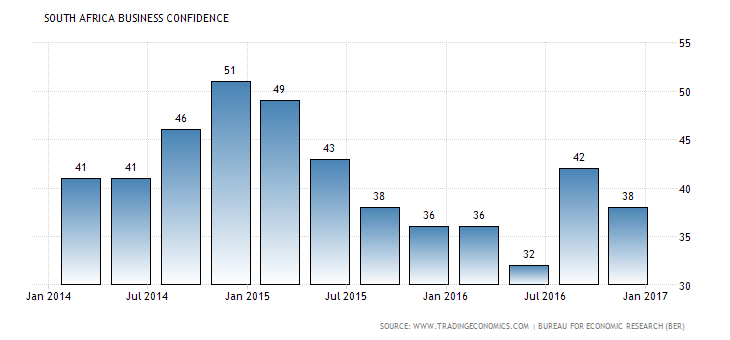 For the greenies: Sunchem has started seed selection for a future Solaris, – a nicotine-free tobacco variety that yields significant amounts of sustainable Jet fuel.
Property review
The JSC all-share index has grown by 129% since 2009. The Construction and Materials index has slumped by 68%. Why? PWC attributes this to a negative real growth in public infrastructure spending as well as the decline in the mining sector capax spend.
African housing finance institution, Shelter Afrique announced the launch of a competition to design a low-cost house with a total prize money of $100,000. To win one must come up with a design for a one-bedroom unit with a 45 m² footprint using eco-friendly, light-weight, sustainable materials. My understanding of such things is that previous attempts in this respect were rejected by the recipients as they would accept only conventional brick and mortar.
Nine REITS are listed in the top 100 companies on the JSE. The top player was Fortress Income Fund B, which delivered a compound yearly 58% return over this period. Impressive.
Practice review
A member of the Faculty of Law at UCT has commented upon the Traditional and Khoi-San Leadership Bill before Parliament: the legislation seeks to legalise a version of unilateral chiefly authority which is contrary to our Constitution. The stated intent of those who punt this Bill is the recognition of tribal leaders. The writers comment that recognition is entirely different from giving such leaders powers in respect of the land that they control. An equally valid objection is the lack of public oversight and control of those who wield such powers.
Both Tshwane and Ekurhuleni have lodged a Constitutional Court appeal against the judgement that municipalities may not hold a property owner liable for a previous owner's historical municipal debts. One can but wonder whether a more proactive approach to collecting debt would not serve these institutions better than attempting to collect from a next generation of owners.
Cases
Biowatch & costs
The so-called Biowatch principle holds that costs should not be awarded against a litigant in the Constitutional Court where a party seeks to determine constitutional rights which may be of interest to all. A party's mere impatience and even acting inappropriately in a technical sense, does not necessarily amount to vexatious or inappropriate conduct. In this case, however, the application to the Concourt on an urgent basis, was manifestly inappropriate and therefore a cost order against the applicant was granted. It is good to know that our courts will allow the development and clarification of our law without penalising an unsuccessful applicant.
Lawyers for Human Rights versus Minister in the Presidency CCT 120/16
Intestate succession and same-sex partners
Two men had lived in a same-sex permanent partnership and one sought to inherit from the other. This case interested me not because of the judgement handed down, but because of the discussions surrounding the so called Volks case: currently heterosexual partners do not benefit under a "reading-in" of the term "spouse" in the Intestate Succession Act but same-sex partners do. It is a pity that our courts have not extended the same rights to all irrespective of gender.
Laubscher CCT 234/15
Surrogacy
Section 294 of the Children' Act requires that an infertile single mother must contribute a gamete (genetic material) in order to enter into a surrogate motherhood agreement. The applicant sought to challenge this provision as being unconstitutional. The Concourt found that this requirement was indeed rational as it creates a genetic bond between the child and the commissioning parent. At issue amongst others was the creation of "designer babies" and the maintenance of the genetic origin of the child.
AB CCT 155/15
Quotables
Maybe Christmas, the Grinch thought, doesn't come from a store. Dr Seuss
It is interesting to see that the web holds the top Christmas video as the Dr Seuss classic "The Grinch Who Stole Christmas": http://nj1015.com/top-christmas-cartoons/
Comment
"Blended learning": a term applied for teaching and learning by means of a variety of different approaches including digital and online material. The term originates from the student protests and steps taken by universities to continue the education of students. Perhaps some good will come of this after all.
The enemy of my enemy is my friend: possibly not when it comes to Mr Malema: "You white people mustn't cheer me on because I'm opposing Zuma. He's my enemy exactly because he protects white privilege."
The new major of Johannesburg delivered his 100-days-in-office speech and said that what had passed for financial management in that city amounted to outright, shameless looting. If he prosecutes successfully, this might prove a turning point for the ruling party.
Lighten up
Moenie dat bekommernisse jou onderkry nie, laat die kerk help…"
ń Vriend het my n duur bottle brandewyn gekoop. Omdat ek met fiets daar was besluit ek toe om dit maar te drink. Wyse besluit, want ek het daarna sewe keer van die fiets afgeval.
Seun: Pa, wat is n verlowing?
Pa: Moeilik maar ek kan dit so verduidelik: Aan die begin van Desember koop ek jou n fiets vir kersfees, maar jy mag hom nie voor kersfees ry nie—maar intussen mag jy so n bietjie op hom klim en die klokkie lui.
Opa: `En dat, jongen, was het verhaal van je grootvader en de Tweede Wereldoorlog.` Jongen: 'Ja, opa, maar waarvoor hadden ze die andere soldaten dan nodig?´
Everyone concentrates on the problems we're having in this country lately -- illegal immigration, hurricane recovery, alligators attacking people in Florida ..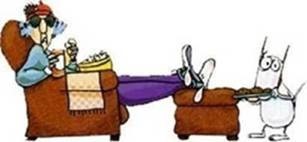 ... not me -- I concentrate on solutions for the problems -- it's a win-win situation.
* Dig a moat the length of the Mexican border.
* Send the dirt to New Orleans to raise the level of the levees.
* Put the Florida alligators in the moat along the Mexican border.