Economic review
As we approach the end of a tumultuous year, it has become clear that South Africa is running out of money with which to address its social ills and that we have limited options for developing our economy to remedy that shortage. The reasons for this state of affairs is attributable partly to history and partly to the current custodianship of power, capital and skill. It is going to be less easy in future to make promises to the poor and execute on them.
Business review
South Africans hold the perception that, of our state departments, SARS performs best. Not necessarily so. It is common knowledge amongst conveyancers that if one picks up a transfer duty query it can take months to resolve, as the call centre system simply does not function effectively. A further accusation now levelled against SARS is that the delays VAT repayments as it is short of cash. SARS denies this and says that the delays are owing to a "tightening of controls". The Tax Ombud has also entered the fray, stating that it had received numerous complaints where SARS had finalised audits and had no legal basis to withhold refunds.
Education:
Curro is taking its first steps to building a tertiary education platform. It has acquired a stake in BA Isago University, Botswana and is rumoured to be planning a private university in Namibia.
Plug-n-play? Industry-ready graduates are what business demands. This is understandable. Whilst revealing of vintage, I confess to being sceptical of such products being termed graduates. Producing ready-for- work employees used to be a function of colleges. The distinction was, in those days, said to lie in a deeper education, allowing one to take a longer view. Clearly an outdated measure?
The National Credit Regulator has said that it will appeal against a High Court order setting aside the recently promulgated Rates and Fees for loans not exceeding R8000 repayable in 6 months or less.
Ancient terraced farming in South Africa? A report holds that the Bakoni, a tribe in the mid-17th-century Mpumalanga, had extensively employed such farming methods, which is said to be part of a pattern of pretty advanced town planning. The tribe collapsed after a drought in 1816 followed by a period of chaos and mass migration.
Fertility: our jobless rate is up and one cannot but wonder whether a drop-in fertility rate might not be the answer to many of the developmental woes that we experience. The following diagram illustrates fertility rates in Africa compared to the rest of the world: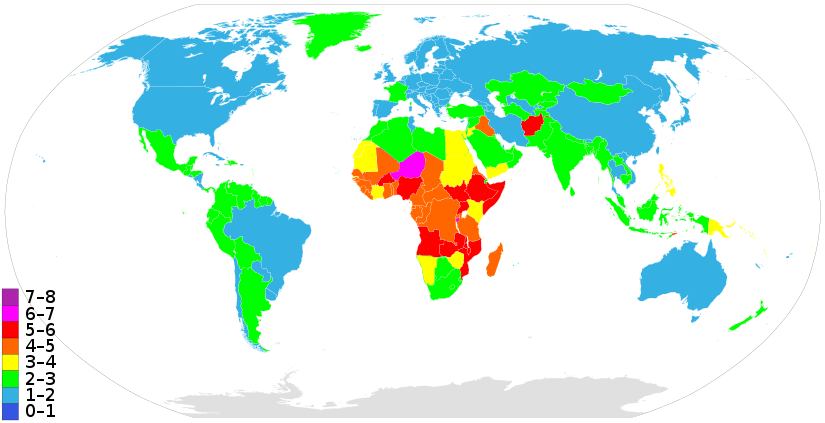 One of the ways of empowering employees in an enterprise, is to sell a portion of the shares in that enterprise to an employee trust. The problem then is that one has to levy an official interest rate of 8% lest one pays donation tax thereon. One such example, reported recently by Palmer, would have had the effect that it would take the trust 42 years to repay the capital to the business owner. The trust applied for a ruling that the interest rate on the loan be reduced to zero and that a portion of the loan be written off (without incurring donations tax) in order to speed up the rate of transformation. This was granted by SARS – an indication that relief may be obtained if one applies for a Binding Private Ruling.
Freedoms:
If you wish to tender for KwaDukuza work you will, in future, have to partner with an emerging local company.
Parallel to the growth of forced association, is a tendency towards forced employment. In this respect, the R8bn Sibaya development may serve as example: business forums in the area have sought to close the project down, demanding that 40% of the subcontracting business be awarded to them.
The difficulty we face is determining the balance between giving others a hand up and making such efforts so costly that it is not worth embarking upon. Effectively, the more one takes in partners, the thinner the cake is sliced and the more one must charge. Empowerment certainly is not free.
Nice girls? A Dutch study indicates that agreeable women earn less than their assertive peers. Go girls go!
How did the current rift between business and government originate? Two UCT economics professors opine that a part of the problem arose from the inability of government to discuss issues of great import to business such as the regulation of employment and wages. This the ANC could not undertake, given its commitments to organised labour. Resultantly, any discussion of wages and employment regulation were off-limits. This coalesced into a situation in which policies,, adopted by the state were supported by business but without the active co-operation that is crucial to strong and effective coalitions.
Property review
Sanity; but will it be adopted? UCT has produced a paper holding that smaller but better located properties in concentrated suburbs are preferable to our sprawling and fragmented current cities.
The Pam Golding Residential Property Index shows a slowing trend for housing price growth in South Africa. The index averaged 5.6% thus far for the year, whilst our inflation rate averaged 6.2%. This suggests that, after inflation, real house prices in South Africa have fallen by an average of 0.6% compared to the same period last year. By contrast, the semi-gration to Cape Town (one wonders why…) has resulted in the greater Cape Town area reflecting a house price inflation of 11.9%.
Land redistribution: only 5856 of the first batch of approximately 80,000 people, who had qualified for land restitution, preferred land. The rest preferred to be paid out. Why? Probably because the would-be recipients aren't necessarily farmers.
The threat of land invasions is real and the rate at which our government processes claims for land is such that this threat becomes more imminent. Du Preez suggests that we should transfer urban land to those who need it, and rapidly put only real subsistence farmers on viable farmland.
Whilst on the subject: the Land Claims Court recently delivered a scathing judgement saying that the "countless failures" of the Commission of Land Restitution to timeously processes land claims, had led to justice being denied to some claimants.
The Durban Country Club, long a landmark in Durban, is faced with mounting debt and is to consider selling the Beachwood Golf course. One hopes that an alternative solution will be found.

Practice review
Government records paint a grim picture of a failing public health system: it appears that only 89 of our 1427 public hospitals and clinics had passed Health Standards Compliance set by the state. This situation leads to inadequate health care and claims against medical practitioners, and is one of the factors leading to our Minister of Health declaring that he wants medical negligence payouts capped. His take is understandable given the massive medical insurance that medical professionals have to carry. The opposite side of the coin is that medical claims are not necessarily contrived, they actually exist (and may be said to be a part product of a failing health system) and have a catastrophic impact on people's lives. One cannot preach access to justice and in the same breath take away the right to proceed against those responsible.
It will be quite interesting to see what transpires when Mr Zuma complains about the PP's recommendation that he should not appoint the judge who would lead the investigation against himself. Mr Zuma might well be constitutionally correct, but logic dictates that one should not be in a position to influence an investigation against oneself.
Are you aware that litigation funding is now available in South Africa? The Jericho Litigation Fund was launched in September. The fund would typically pay a plaintiff's litigation costs for the duration of the dispute in exchange for a share in the end result, if positive.
Our Department of Home Affairs has embarked on the digitisation of birth, marriage and death certificates. High time.
The cut-off dates for Deeds Offices have become available:
• The last day on which one could lodge to register this year is probably the 8th or 9th of December.
• The last day for registrations will be December 22.
Cases and such
Unmarried same-sex couples versus heterosexual unmarried couples
According to the 2011 census, 8.6% of South Africans were involved in relationships not formalised by marriage. Owing to the piecemeal recognition of such relationships by our courts, the situation arose that those involved in same-sex relationships have rights which include –
• the right to spousal medical aid and immigration benefits;
• an action for loss of support;
• joint adoption rights; and
• intestate rights of inheritance.
Heterosexual unmarried couples do not have the same rights. The July De Rebus contains an article dealing with these which is worth a read for practitioners involved in such matters.
Anchor tenants and exclusive training arrangements
It is a common occurrence for anchor tenants in a shopping complex to contract that the lessor would limit other traders to not compete with it within the same complex. In this case P & P sought to enforce its contractual exclusivity, not against the lessor, but against another tenant in a complex, although there was no contractual relationship between P & P and that tenant. P & P pleaded that the intentional conduct of its competitor was designed to interfere with its contractual rights in respect of its lease agreement with the lessor. The court held that such a wider form of delictual interference with a contractual relations of another, extended the limits of the aquilian liability too far and the case was lost. Essentially there is no legal duty on third parties not to interfere with the contractually derived rights of another. This is a landmark case and was long awaited.
Masstore, Concourt CCT 242/15. Ask me for a copy
Quotables

Stress is an ignorant state. It believes that everything is an emergency. Nothing is that important.
Natalie Goldberg
Comment
Mugabe-esque conspiracies: in his recent KZN campaign Mr Zuma suggested that unnamed foreign countries were funding locals to destabilise the country because they were unhappy that we are a member of BRICS. 'Nuff said.
Lighten up
For women only:
Q: How do you keep a blonde in stress?
A: (I'll tell you tomorrow.)
Some people are alive, only because it's illegal to kill them.
The gene pool could use a little chlorine
.
The original point and click interface was a Smith and Wesson